Back to Work!
Indeed, and what a way to start! Here is the review of our first album Casting Shadows from the goodly Michael Anthony at Fireworks Magazine: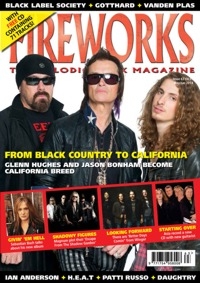 "Fusion Orchestra 2 is the second coming of a band previously known as Fusion Orchestra (see what they did there?), who released an album for EMI ('Skeleton In Armour') way back in 1973. Only one founding member remains, guitarist Col Dawson, but along with Ben Bell he's put together an exciting new line-up which has delivered an album that is simply delightful. 'Casting Shadows' features a fascinating mix of short, classically inspired musical interludes and trhee extended tracks that blend Progressive Rock, Classic Rock, Jazz and Blues influences. 'Don't Forget Your Key', a short classical piano piece, sets the tone and segues straight into the first extended track, 'Leaving It All Behind'. From the Schenker-esque riff about one minute twenty seconds in, I was hooked. Of particular note are Bell's imaginative keyboard playing, and the fresh and rousing vocals of "self-taught" singer, Elsie Lovelock. I played the album before I read the promo material so Lovelock's voice took me completely by surprise (and very pleasantly so).The quality of the material and interplay between members is maintained throughout. 'Cider Sue', the second long track, is a standout – a jerky, quirky number requiring considerable vocal dexterity during the chorus that's delivered with aplomb. Song-writing credits are attributed to Dawson, Bell and the non-performing Jo Hollands, with Hollands also contributing all the lyrics.
In short, 'Casting Shadows' is a thoroughly pleasant surprise and a really enjoyable listen. Musically there is a lot going on throughout. You can hear every instrument, there are lots of twists and turns, and there are lots of different styles and influences at work. It's an album of real character and its great fun.And at the end of the day it's hard to knock a Prog band with a bass player who goes by the name of Shemski and a drummer called Seex Dyer!"
So that was nice. Current copies of the magazine also include a free sample track from the album. Get your copy from WH Smith's etc in the U.K. or download from the Rocktopia website — www.rocktopia.co.uk
So what else have we been up to? Well the exciting news is that rather than basking in the success of the new album we are already at work on the second. Title and such all way off in the pipeline but members of the band, remaining nameless, have been overheard using the words 'concept' and 'album' in the same sentence… I shall say no more.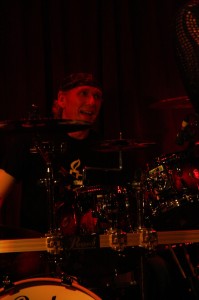 I love writing new material. There is truly nothing more exciting for a musician than sitting down in a room empty of music and conjuring up new sounds and acoustic experiences together. Of course, playing live and re-creating pieces has a satisfaction level all of its own, but for me nothing quite beats those moments of creativity right at the beginning of the process.
Without wishing to wax too lyrical about it, it can be much like bringing a child into the world. The new creation may start small. They come with their own personalities as much as they are shaped by the temper and personalities of their parents. And most exciting is the realisation that they are unique. Nothing else in the world is quite like them. (That is, as long as we retain some musical integrity!)
I love the way FO2 work. It's so collaborative. I was trying to 'watch' while we were at work last night and tried to un-pick some of what goes on.
When we are trying out a new chord sequence or riff it seems that we each take it in turns to 'hold it together' while the others take, roughly in equal measure, the opportunity to extemporise and experiment with their own part. Then, on what must be a subliminal cue, we will together take the piece in a different direction dynamically or structurally and see how it fits.
After that, some nitty gritty discussions about pieces and jigsaw making and 'that could go there' and 'let's not do that too much' and we begin to see a rough outline of a piece take place. Fab!
It's a bit too early to count how many tracks there may be but I can reveal a very strong inclination to include a FO2 Percussion Spectacular!
(As an antidote to the very worthy re-count of our song-writing approach above there are also many moments when we just wig-out and see what happens. Turns out Col is a demon on congas as well as guitar and Mr. Ben Bell's new name is 'Signor Timbales Conquistador' — we just need to find something to hit and we shall be sorted…you heard it hear first!)
Arriba!
Til next time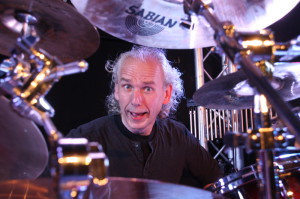 Seex